BSI reserves the right to change the route, program, and the date of the event. 
The growing popularity of running a marathon is undeniable. If you're a relatively new runner, running the half marathon is the first big stepping stone. The distance is long enough to become very proud when reaching the finish line, but not long enough to not see the end. Run a half marathon in Budapest, on a beautiful route with ten thousands of runners! This is a sightseeing running tour event: world heritage sites along the course, bridges across the Danube, Gellért Hill, Buda Castle, the Parliament of Budapest, Margaret Island, and a lot more. International field, unforgettable experience!
Course specific information
The course runs through the heart of Budapest, crosses several bridges, and passes the most well-known sites of the city.
This is the official course map for the 2020 race:
A list of results will be published online in real-time and will be updated as runners cross the finish line. Runners who do not have time at one of the checkpoints along the course will not be given a rank. Those who received a 10-minute penalty will be marked with an asterisk.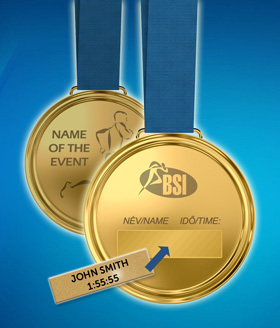 rder your medal insert engraved with your name and your result! By doing this you can skip the long queues and you don't have to bother with cash. Buy it online and after the event, we will send you the medal insert engraved with your name and time that fits neatly into the back of your finisher medal. We will engrave your name and time on a small stick-on metal card and send it to your postal address. When you get it you can easily stick it onto the back of your medal and your personalized medal is ready! The medal insert can be ordered prior to the race online at the
entry.budapestmarathon.com
 website. The personal medal insert can only be ordered for those with an individual result.
PRICE:
(+shipping and handling to a foreign address):
10 €
.
Deadline: September 14, 2020
Thanks to Laufenn, High-resolution photos taken along the course can be downloaded for FREE from
https://bsi.futofoto.hu/
WE WISH YOU HAVE A GREAT TIME!
---
Wanna know how does it feel to participate in such an event? Click to watch our official highlight movie of last year's event
!